I'm on the Bart train heading back from my meeting with Paul and Boban. We had already begun talks about shooting the video for their Kickstarter launch, but we're still up in the air with the direction. I'm on the Bart because the previous evening I got an email from Paul, the CEO, telling me that they were leaving for China to check on manufacturing and only had this small window of time to meet with me in person in order to tie the the details for the video.
We had discussed a lot of things during that meeting with the main focus tacking question of how we're going to show the Konzu, a backpack that's just filled to brim with features.

Boban orginally came up with the the story, he wanted a continuation of their last Kickstarter video which featured the romantic initial meeting of two characters over their product.
"I want our two characters, Matthew and Kendra, to meet up and exchange gifts. One of the gifts will be our new product, the Konzu"
My original thinking was of a little uncertainty on whether or not this concept could get too cheesy. Romance, similar to humor, has a big risk of not working out well if you don't pull it off correctly.
But I always rely on my cardinal rule of really listening to the client knowing that sometimes if you listen hard enough, you can see things the way they do.
The concept was an obvious comparison between their feature rich backpack and a standard, run of the mill backpack, and yes, I would admit that at the end result of the video, there were some cheesy moments, but I do think this story that we chose together did a great job of showing all of the product's features in story form. There's also certain elements to the video that was believable too, like the theif stealing the boyfriend character's gift, or the fact that the wind blew the girlfriend character's hair to increase the romantic mood.
I mention the features, and I have to re-mention them because the video showed each design and made it really clear what the features are used for. I especially liked the beeping mechanism or the key pocket, which Barracuda turned into a GIF that provided a nice asset to their Kickstarter page.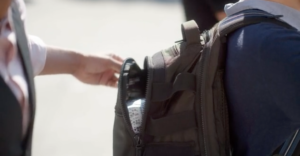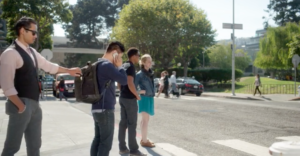 The story serves to show the product and maybe one day we'll have a huge project and can spend more time on the story like the way BMW does with their latest short film, but for now, I'm just happy to see the success my client has had on this campaign.
Reference Links:
Barracuda Konzu Kickstarter Page